Celebrating 10 years in business
10 years in the business and counting!
Sitting here 10 years older but also 10 years wiser sometimes feels like a dream.
Has it been easy, no, has it tested me to the limit, yes, but would I change it, absolutely not!
As a little girl I always knew I wanted to help others and I always knew I wanted to be my own boss, but it wasn't until I got into my late 20's that I realised by true calling was teaching and learning.
I have never looked back!
Nothing gives me greater pleasure than helping others to realise their potential through learning and to celebrate 10 years in the business.
I want to share with you 5 key things that I have learnt along the way.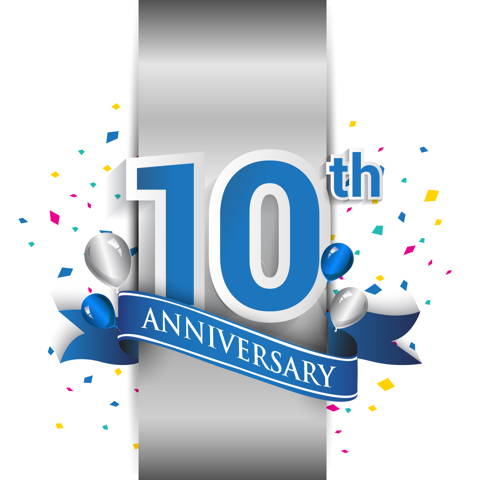 Nothing ever stays the same.

A famous quote that I live by is "the only constant in life is change" (Heraclitus)

Never has a truer work been spoken. In the last 9 years we have seen technology improve, we have changed our learner management system, the way our courses are set out and delivered and gone from selling training to community groups to expanding into the housing and business sector. Times change, so have we.

In the last 12 months, Covid 19 has changed our lives beyond recognition. The face-to-face training and consultancy we deliver was postponed overnight at the start of the pandemic. Luckily, our main business is E-learning but that also took a hit as the last thing that people were thinking about at the start of the pandemic was training their staff. Keeping their businesses afloat whilst trying to navigate a whole new way of working for their business and their staff was their main priority, and rightly so. Once businesses settled into their new way of working, investing in their staff (which is the right thing to do) started to become a priority again and we are getting back on track.

We have also had to move all of our face-to-face meetings and consultancy online via Teams or Zoom. Because of this we are actually able to speak to and train more people as we no longer have to factor in the commute. Our customers are saving money on travel and hotel costs and because of the way we still interact using the features available on Teams and Zoom, customers are reporting that they are still getting everything they want out of working with us.




Peoples needs can change in a heartbeat.

When we originally started out, we had a business model that we thought was the best we could offer. As we learned, grew, and developed we had to change our offer to suit the changing needs of our customers. We listened to their needs, we explored options with them, and we moved with the times.

The pandemic has taught many of us what is really important and what we actually need to survive and be happy; we have also seen this in businesses. Businesses are really valuing the staff they have and see the value in investing in training and development for them. What they also want is all of their staff training in one place so that it is easy to monitor and manage. When the needs of businesses change, you need to change with them, flexibility is key. We have introduced monthly payments for customers that can't pay upfront and we have adapted all of our face-to-face training so that it is still interactive on Teams and Zoom, these are just a few examples.




Technology is key.

Technology has always been extremely important to us as we are predominantly an E-learning business.

Never before however has technology been so important. Without Facetime, Facebook Messenger, Watts App, Teams, Zoom, the list goes on, most of us would not have seen our friends, family and loved ones for nearly a year. In our working lives we would not have been able to work from home, engage with colleagues and customers and keep ourselves going throughout this pandemic. Technology has allowed us to continue our business whist adhering to Lockdown and social distancing rules. Businesses who are not digitally prepared will suffer if anything like this happened again and this situation has made me realise even more how important technology is to our survival.




Offer superior quality and no less.

We have always prided ourselves on delivery quality. We are qualified teachers which we feel helps us to understand the theory behind learning and our Instructional designers have trained for up to 7 years to be able to design and develop the E-learning training. Our Consultancy work is delivered by a team of qualified professionals, most are experts in their field and our face to face/teams training is delivered to the same standard.

I like to describe E-learning as the good, the bad and the ugly. There are some fantastic e-learning courses out there but there are also many that leave a lot to be desired. We pride ourselves in giving our learners the best quality, which is why we have the option of formal accreditations and CPD certifications as standard. We want you to know that when you train with us, you have highest quality for your investment. We also invest in the best technology and we move with the times.




Trust is the most important currency you can have.

We have a very high retention rate of customers. These customers renew their contracts with us year after year. Yes of course the quality of training and the additional services we deliver such as free reporting are reasons for this but ultimately customers tell us that they renew with us because they trust us. Their feedback tells us that they value the fact that they have an account manager, they value the fact that we check in on them throughout the year and they feel like we treat them as real people with real needs, and not just as an account.

That trust also extends to staff. With the pandemic we have had to trust our staff to work remotely. We have understood that they have children at home and have had conversations with them around what they need from us to enable them to operate effectively. We have introduced weekly targets so that if they need to stop work for a few hours one day, they can make those hours up on another day, we have flexed to meet the needs of each individual and we have reaped the rewards. Staff are performing as well as ever and targets are being met. They trust us, they respect us and they repay us by working hard.






So, here's to another 10 years and who knows what I will have learnt by then! Learning never stops.
My passion is for learning, any age, anywhere, anytime. That is why I offer Interactive E-learning, Face to Face training, Microsoft Teams/Zoom training and consultancy services. Learning should be easy to organise, and more importantly fun!
The world is moving so fast these days, especially where technology is concerned, everything is mobile, what would we do without our mobile phones and tablets? Learning takes place every day, whether it's from an article we read, an app we download or a conversation we have going about our everyday lives. We are always learning and developing.
Author: Maxine Clark
Visit Maxine on LinkedIn