Simplicity-is-the-ultimate-sophistication
This famous quote from Leonardo Da Vinci could not be closer to the truth.
Now I am not saying that I live my life by this quote, sometimes I am my own worst enemy! That does not mean though that I do not agree with it. 75% of the time I apply it and feel so much better for it, however I am only human and old habits die hard!
I am living more simply and have gotten so much better at bringing simplicity to my complex life, I just need to continue it.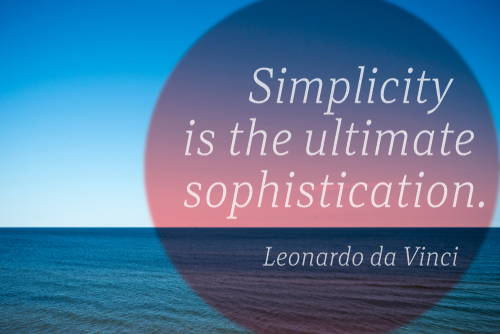 Here are a few easy ways that I have applied that help me live a simpler life.
• I always learn from the past, and don't carry those mistakes around with me! Past mistakes should teach you to create a better future; not cause you to be afraid of it. I don't carry my mistakes around with me anymore, instead, I place them under my feet and use them as stepping stones. Success is not about where you are standing at any given point in time; it's about how much you've learned and how far you've come to get there.

I try and focus on being productive, not being busy. I don't just get things done anymore, I get them done right. My results are always more important than the time it takes to achieve them. I stop and ask myself if what I'm working on is worth the effort. Identify what's most important to you. Eliminate as much as you possibly can of everything else. No wasted time, no regrets.

• I organise my space. – I have always been tidy but I now work in a clutter free environment. If you have a cluttered space, it can be distracting and stressful. A clear space is like a blank canvas, available to be used to create something great.

• I try my best to be efficient. Stop being inefficient simply because you've always done it that way. If you keep doing what you're doing, you'll keep getting what you're getting. I streamline my life by finding better ways of handling common tasks. I focus on one thing at a time and try to make it simplified, efficient, and logical, even if it is just doing my cleaning!

• I let things be less than perfect. This is hard! I try and smile at every chance I get; not because life has been easy, perfect, or exactly as I had anticipated, but because I choose to be happy and grateful for all the good things I do have. I accept that my life is not perfect, that people are not perfect, and that I am not perfect. And that's okay, because the real world doesn't reward perfection. It rewards people who get GOOD things done. And the only way to get GOOD things done is to be imperfect 99% of the time.



So, be imperfect, be proud of who you are and what you have achieved and live life.
My passion is for learning, any age, anywhere, anytime. That is why I offer Interactive E-learning, Face to Face training, Microsoft Teams/Zoom training and consultancy services. Learning should be easy to organise, and more importantly fun!
The world is moving so fast these days, especially where technology is concerned, everything is mobile, what would we do without our mobile phones and tablets? Learning takes place every day, whether it's from an article we read, an app we download or a conversation we have going about our everyday lives. We are always learning and developing.
Author: Maxine Clark
Visit Maxine on LinkedIn